*** Possible Spoilers Ahead! ***
**There will be a summary in this review. I have now included the summary at the very bottom of this review so that you can read my thoughts and my recommendations BEFORE the review. Please do not read the entire review if you want to avoid all and any spoilers.***
Book Title: Sea Witch
Author: Sarah Henning
Main Theme: Young Adult Fiction/Fantasy/Mythical Creatures/Romance
Thesis: Evie, a young girl living in a small fishing village, knows what heartache is all about. Unexpected death has popped up numerous times in her life, and as she struggles to find her purpose in this small village that she feels outcasted from, Nik, her best friend, and Iker, a potential love interest, keeps her grounded. After a terrifying storm threatens them all, the world becomes much more complicated with the influence of mythical creatures and magic beyond Evie's knowledge. Evie's sense of loyalty is tested, and there is a time constraint to keep all of her friends together. Will she make it work? Or will she lose someone again, and can her heart take it?
What Drew Me In: As you all well know by now, I am such a sucker for beautiful book cover art. Whoever designed this cover knew what they were doing. The eyes just bore into your soul, like she knows exactly what she desires. Beautiful watery colors definitely give you the feel of something of mystic and power. I also love a good fantasy novel, any type of mythical creatures are involved, chances are that I will love it.
My Thoughts: Let me be the first one to say: Wow! This book was NOT at all what I expected. Sarah Henning created a fictional, magical world with real-world input that spills a tale of fantasy and magic like no other. I appreciate her efforts in making a world that was both medieval and modern in a sense, with her tales of royalty and balls, while also having steam-powered boats, and witches and mermaids!
Also, this book did not AT ALL end the way I expected it to end. Without spoiling too many details, the book did not have a happy ending, as in the riding towards the sunset. However, Henning has left the door open (in my personal opinion) to make a sequel and continue Evie's tale, which I am definitely looking forward to.
Would I recommend this book?: Absolutely. This provides a twist on the fairy tales we used to entertain ourselves as children with vivid storytelling and aspects of revenge and romance, Henning keeps you wrapped around this book's little finger and you feel compelled to keep turning the page. If you enjoy a world of fantasy, mythical creatures, and heart-stopping intense moments, this is the book for you.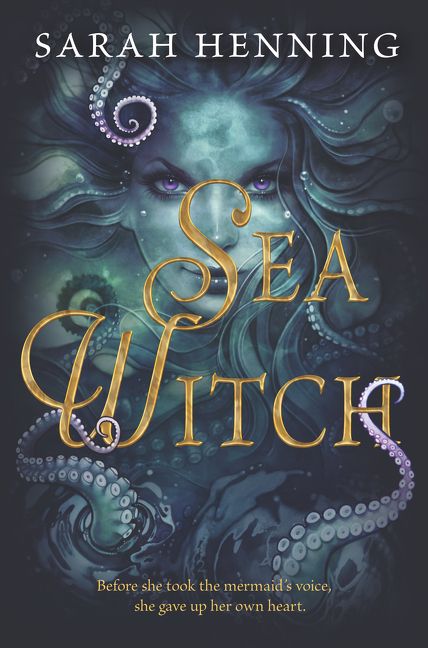 Summary: This novel is set in Evie's point of view, an adolescent girl living in her village somewhere in Demark/Sweden with her fisherman father and her aunt Tante, a witch. Evie is also a witch, very early in her powers and learning. Evie's best friends are Anna, a girl who lives in the village, and Nick, who is a prince of their kingdom. They are also friends with Nik's cousin, Iker, a prince from a neighboring kingdom.
Early in the book, you learn of an unfortunate tragedy between the four friends. Anna drowns in the cove, despite the efforts from the friends to save her. We fast forward four years when Nik's coming-of-age celebrations are on the horizon. Evie's biggest problems were 1. Concealing her witch ancestry, for the town is very superstitious and will burn witches still, and 2. Understanding her feelings towards the two boys in her life, for as Nik has been Evie's best friend since childhood and there may be a budding romance between her and Iker. After a horrible storm knocks the three off their ship, Evie is shocked to come across a mermaid, who saved Nik's life.
The mermaid, named Annamette, is a spitting image of her best friend Anna, although she claims to not know anything off Anna. Annamette reveals to Evie that she is a mermaid and must find true love's first kiss to stay on land, and she believes that she is in love with Nik, the boy she rescued. If she doesn't, then she will turn into foam into the sea. Evie, determined to help her friend, introduces her to the two princes, and for the next three days, spends time with them as their guests in the castle over the Lithasblot holiday, filled with dances, feasts, and competition. All seems to go well, although Nik has not kissed Annamette yet. The final night, the big ball for royalty and commoners alike, the four teens find themselves in conflict. Iker, who has always been wary of Annamette, can no longer keep his opinions to himself. He accuses Annamette of being a witch, who put Nik under a spell. Nik and Evie rush to her defense, and in a last-ditch attempt to make Nik understand why he needs to kiss Annamette, Evie spills the beans and tells the boys she is actually a mermaid. Annamette feels betrayed and tells the boys that Evie is a witch, and they suddenly find themselves the target of the village's superstitions. The girls flee, and while on the beach, Evie tries one more time to save her friend through a spell. When it doesn't work, Annamette reveals that she is actually Anna, saved by a group of mermaids before she drowned. When Anna realizes what had happened to her, she becomes enraged that her friends did not save her and vows to take her revenge. To become human again, she actually needs to take a human life in exchange for her soul.
Through spells and inner rage, Anna almost kills Nik and Iker. She does accidentally kill Nik's father, the king. By doing this, she becomes human again. Seeing Nik so wounded, Evie performs a spell that sacrifices her life for Nik's, and before she dies, she dives into Anna, pulling her into the ocean and ensuring that she drowns, so she could never hurt anyone again. Before Evie dies, the combining magic of her witch powers and what was left of Anna's mermaid powers causes Evie to transform into a magical being, nothing that the land or sea has ever seen before. Unable to live on land, while also not able to leave the cove, she lives in an underwater cave, learning her new powers.