*** Possibly Spoilers Ahead ***
** Due to the fact that this is a non-fiction book, spoilers aren't as huge of a factor. However, if you wish to read this with no previous insight, I recommend that you skip this review 🙂 **
Book Title: Girl, Wash Your Face
Author: Rachel Hollis
Main Theme: Self-Care/Self-Help
Thesis: Rachel Hollis is an American author, CEO of her lifestyle blog The Chic Site, blogger, motivational speakers, mom of four, and wife. Her book, "Girl, Wash Your Face" is a bestseller on the New York Times Bestseller list for seventeen weeks now. Rachel wrote her book to inspire all women to take control of the chaotic thing called life, and to either dominate all of their goals, or not lose faith when things get a little to out of control.
What Drew Me In: Okay, here's the hard part. To answer this question, a little backstory needs to come out. Growing up, I have struggled with many self-confidence issues. I didn't have many friends, I thought I was the ugliest little duckling, no boys would ask me to homecoming, and frankly, I just wasn't good at ANYTHING. I tend to hurt myself or others in sports, and while I had decent grades, I didn't excel at anything (Except maybe English/Reading). I loved to draw and paint, but truth be told, I was only good at painting trees of all things. After high school, I found myself lonely, unsure on life, and really stuck in a rut. I didn't progress, but I didn't fall behind really either. While most of my friends have moved on, started college, getting their own places or living in dorms, I was stuck in small-town Texas, living with my mother (Bless her heart), helping raise my siblings (bless MY heart), and working random jobs to keep me busy. My lowest point was probably when I was 19/20, when I was working as a cashier at Walmart. At that point, I was considered useless by many people, no college degree, a dead-end job, and still living with my mother. The breaking point was realizing that for as long as I stayed there, I was going to be nothing. While I love my mother, our relationship was strained beyond belief, and while I will do absolutely anything for my siblings, I realized that sacrificing my life to help raise there's was pointless. At this time, I had an online relationship with my now husband, and we were determined to meet each other. So I packed my bags, visited his hometown in Idaho, and for once in my life, I felt on top of the world. It wasn't long before I made the big move to live with him. Two years and one marriage later, I am probably the happiest I have ever been in my life. With him as my partner, I have a successful and meaningful job at the local library, I have pursued my interest in writing, I bought my own car, and the thought of children are on the horizon. Still, everyday can feel like an up-hill battle. Some days I'm on top of the world, the next I struggle to make it out of bed. All of my friends are graduated, or have great jobs. Some have been married long before I have, and some even have kids! I can't deny that I'm jealous. I constantly have my inner demons nagging at me, threatening to pull me down. Jumping to the topic of this book now, I saw this book on my bestseller shelf at the library. Admittedly, I'm not one for any kind of "self-help" books. But something about that cover was calling me in.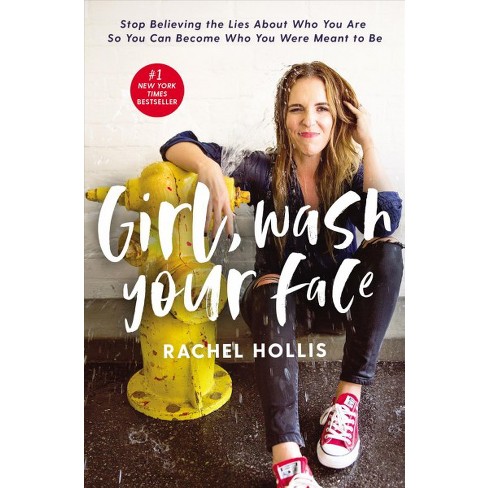 Just look at her, Rachel is the kind of girl who makes you feel like you can confide your deepest, darkest secrets too. Reading the book, I realized she had her own demons, although you would never had guessed it. The more I read, the more I realized that this girl is human too, she's made mistakes, she's had her failures. She has felt the pain of heartbreak, and guess what? She's still here, kicking butt. She loves her job, she loves her family, and most importantly, she loves herself, and that is something that I could have heard a long ass time ago. She's inspired me to love myself, to pursue my dreams, and to live the life I want to live.
Summary: Rachel begin's her book with an introduction of herself, talking about who she is and her goal for writing this book. As a motivational speaker, she has met hundreds of people who doubt themselves in some way, from being a good parent, a good partner/spouse, or accomplishing their goals in life. Through-out her book, each chapter is titled with a lie that she has believed at some point in her life, and how these words no longer apply to her. She gives us a deep look into her life and her personal experiences and how she learned and grew to the strong-willed woman that she is today! Her secrets are shared, embarrassing memories, or even painful thoughts are given to us to learn that EVERYONE has their demons. EVERYONE has something to improve in life. One of my favorite sections of the books are the little tips she includes at the end of every chapter on what has helped her move past what was holding her back.
My Thoughts: Drawing from my "What Drew Me In" section, this book has given me comfort in working through my own personal struggles. Your problems often seem small when your eyes are open to what other people struggle with. Rachel has such an uplifting, positive outlook on life, it is honestly infectious. To say the least, I would love to meet this lady and poke more at her brain. She's the type that you can't help but to say, "I want to be her best friend!" …… and seriously, that's majorly awesome, because I suck at making girl friends haha.
Would I recommend this book?: If you are looking for a new type of read, or interested in non-fiction on it's own, or if you are struggling through life, then… YES. Reading a book will not solve your problems. It take's hard work, and a desire to SEE a change and WANT a change to happen in your life. Having a friend though, some one who is your cheerleader, pushing you to be a better you, helps tremendously. Rachel is that cheerleader. She wants all of her loved ones and readers to thrive in their own ways. Take what you learn from this book, surround yourself with good people, write your goals down, scream them at the top of your lungs, and be the best person you can be!
I hope one day that maybe Rachel could see this review. Even just to glance at it, I want her to know that her words help. Maybe our paths can cross, and if so, I hope she's down for a coffee date!
☕ ❤️
The Library Lady